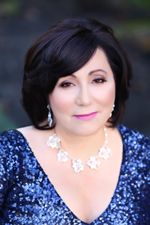 Baltimore songstress Marianne Matheny-Katz releases a new album in May 2014. Somewhere in Paradise features engaging jazz standards with surprising new arrangements.  In the liner notes, jazz critic John Murph calls Matheny-Katz "a captivating singer [who] possesses a quintessential jazz voice, which she enlivens with lissome, conversational phrasing."
The disc features some of Baltimore's best musicians, including reed players Todd Marcus, Tim Green, Craig Alston; bassist Eric Wheeler; pianist Vince Evans; drummer Eric Kennedy; and superstar Warren Wolf on vibraphone, piano and drums. Also featured is Philadelphia trumpeter Terell Stafford.
Born in Staten Island, Matheny-Katz spent her teens singing folk music in coffeehouses. She left the stage for a decade to raise a family, but after moving to the Mid-Atlantic region, returned as a blues singer. For 11 years, she performed and recorded with Maryland based group Park House Jam.
Her move into jazz was dramatic. She entered Baltimore's annual Billie Holiday competition in 2000. She took second place in the prestigious competition that year and again in 2002, and was subsequently invited to perform in a Billie Holiday tribute concert at Artscape 2010 at Joseph Meyerhoff Symphony Hall.
Matheny-Katz studied jazz vocals with Vince Evans, JD Walter and mentor Jay Clayton. She formed the M2K Jazz Ensemble in 2003. She has performed in the Mid-Atlantic Jazz Festival, New Jersey Jazz Festival, Patterson Park Concert series, the Eubie Blake Center, Germano's, The Carlyle Club, Acton Jazz Café (near Boston), and often at the Tremont, Radisson and Colonnade Hotels in Baltimore.
In 2007 she and her husband Howard Katz opened Jazzway 6004, presenting top-notch local and touring talent. (Downbeat Magazine named it one of the nation's top three house concert venues.) The two are also producing a documentary film on Baltimore jazz, directed by Jonathan Bevers. "Tell Me More—and Then Some" has been completed but the team is raising money for post production to release the film. Meanwhile the savvy singer maintains a busy schedule presenting and performing. 
News: THE JONI CHRONICLES
Marianne is currently busy working on The Joni Chronicles, a 7 year long project on the music of Joni Mitchell.  She and her project band, Craig Alston (saxophones, flute), Alan Blackman (piano), Eric Kennedy (drums), Michael Raitzyk (guitar) and Jeff Reed(bass) have created a catalog of Mitchell's work, featuring interesting and evolving jazz arrangements. Marianne and the band have been and will be performing these works during 2019 and 2020, leading up to a formal studio recording in 2020.  
---
Marianne will be presenting The Joni Chronicles  at
Germano's Piattini
Friday, February 7, 2020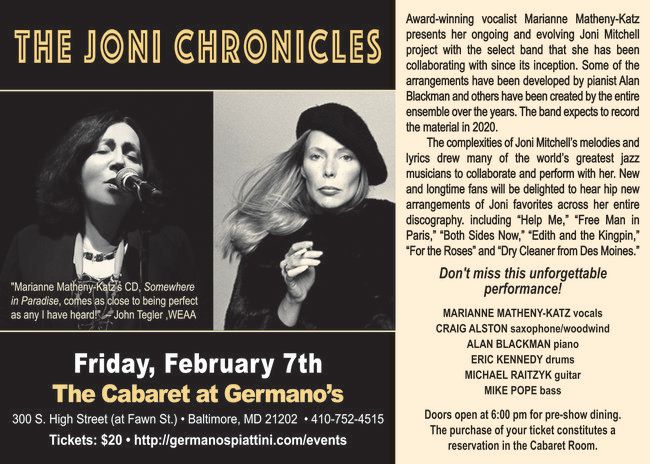 Doors open at 6:00 PM
You can purchase tickets at
https://germanospiattini.com/events/
or directly at Instant Seats
https://www.instantseats.com/index.cfm?fuseaction=buy.event&eventID=CF7FFABE-F892-8D85-EA25BD884FCC180C